How to Build a Sustainable Home from the Start: Tips from an Architect
April 19th, 2023
By Sofia Alonso
5 min read
Custom homes offer a unique opportunity to create a living space that fits perfectly to one's lifestyle and preferences. With this comes the ability to create a sustainable home that aligns with your values and reduces the impact on the environment.
Many homeowners are concerned about the environmental impact of their homes and want to reduce their carbon footprint. They want to know how they can design and build a sustainable home that fits their needs and saves energy.
As an architect-led builder, we have years of experience in designing and building custom homes that are not only beautiful, but also feature our sustainable design principles.
In this article, we will explore the fundamentals of building a sustainable custom home that goes beyond just appliances and technology. We will look at how proper site planning, water conservation analysis, waste reduction, and energy efficiency can all contribute to building a truly sustainable home - from the start.
The 8 Fundamentals of Building a Sustainable Home
1. Site Planning
The foundation of a sustainable home lies in proper site planning. Site planning involves intentionally placing the footprint of the home to have proper solar orientation, while working with the natural topography of the land and considering the existing vegetation of the site.
2. Passive Solar Design
The solar orientation is the most critical and basic factor that determines the energy efficiency of the home. By designing the home to maximize the solar gain in the winter and minimize it in the summer, homeowners can reduce their reliance on artificial heating and cooling and create an opportunity for passive energy.
At AV Architects + Builders, we even utilize design software that allows us to perform solar studies on a site and see the pathways of the sun to optimize the home's location for sunrise and sunset.
We believe in the importance of going back to the basics for true long-term effectiveness. Building the foundation of sustainability right means maximizing the natural aesthetics of the site and limiting the removal of trees and other natural features.
Most production builders and large developments clear the sites and level the land as it is more cost effective in order to produce a large number of homes in one neighborhood with similar design attributes. That is why we believe that custom home building is a more sustainable method because it allows for a site-specific approach that preserves the natural beauty of the land.
Read more in this article to understand the three different types of home builders.
3. Water Conservation
Water conservation analysis is another critical component of building a sustainable home. It involves being sensitive to wetlands and streams and dealing with resource protection areas (RPAs) on every project. We must be careful about the water runoff from the site and consider the impact on the surrounding community.
Bioswales, infiltration trenches, and planter boxes are all elements that can and often must be incorporated into the site design to manage stormwater runoff. They are designed to help water flow in a controlled way to filter and absorb large amounts of stormwater, prevent flooding, and reduce runoff.
4. Waste Reduction
Waste reduction is also a significant aspect of building a sustainable home. We keep a lot of material out of landfills by handling our teardowns efficiently. We have worked with a company called Second Chance, which is a waste diversion company that helps to salvage teardown components and repurpose materials from the site.
The idea of not just throwing it all in the dumpster is a crucial mindset for sustainable building. From the design phase to the construction phase, being sustainable is about being intentional.
5
.
Sealing the Building Envelope
One of the most important aspects of reducing energy consumption is air sealing. By making the building envelope airtight, homeowners can minimize small air leaks that are inevitable during construction, ensuring the home's energy efficiency.
What is the Building Envelope?
The building envelope refers to the foundation, windows, walls, and insulation that make up the structure of a home. The building envelope incorporates superior insulating techniques and passive control functions that promote energy efficiency.
To airseal, your builder must use foam or caulk at all gaps and joints where the floors and walls meet and seal the gaps around windows, doors, and outlets with caulk or foam insulation.
Although air sealing should be standard, not every builder does the same level of work, and it all goes back to the quality of the build and the materials.
6. Insulation
The three most common insulation techniques are fiberglass batts, spray cellulose, or nontoxic foams to fill the wall cavity to capacity and ensure maximum performance.
Fiberglass batts are a popular and cost effective option; however, as with most materials, performs well when properly installed.
Spray cellulose is another cost-effective material and performs well. Most spray cellulose is made with recycled materials and is designed to be insect and fire resistant.
Spray foam insulation comes in two basic types: open cell and closed cell.
Open-cell foam is lighter and less expensive than closed cell foam. It is also less brittle, which allows it to flex inside walls as the building expands and contracts. When the tiny foam cells open, they allow in air, which is a good insulator. Open-cell insulation is less dense and has a slightly lower R-value than closed-cell.
Closed-cell foam is a durable product that captures the denser gas that is used to spray it with so that it expands inside the cells. However, it costs more and only provides a slight increase in R-value. The higher the R-value the greater the effectiveness of the insulation.
7
.
Windows and Doors
Another significant aspect is using better-performing windows that have a low-E glass coating. This helps to cut down on heat gain when the sun hits your windows, reflecting the heat from the sun and preventing your house from getting too hot.
Doors are another potential weak link in the building envelope. A well-insulated door is made of fiberglass or insulated steel. Like windows, learning how doors affect the tightness of the envelope and contribute to significant energy loss is crucial.
Although modern style homes typically feature large windows and doors, they need to be of a certain quality and installed correctly; otherwise, homeowners may experience air leaking due to air sealing issues.
8
.
Minimize the Reliance on a Mechanical System
Once the building envelope is complete, the mechanical system can be addressed. The goal of creating a sustainable home is to minimize the reliance on a mechanical system. Heating and cooling our homes contributes to a significant portion of our energy consumption. As such, it's important to design the home's solar orientation and building envelope to be as efficient as possible. Prior to the invention of heating and cooling systems, people relied on positioning their homes to take advantage of natural heating and cooling. We have become over-reliant on flicking a switch and allowing our designs to become less intuitive because of it.
Building a home with a focus on air sealing the building envelope can allow you to downsize the required HVAC equipment, lowering installation, maintenance and future operating costs. Ask your architect and builder to help specify and size the right HVAC equipment to your home considering the climate of your location and the design of your home.
9. Geothermal
Geothermal systems are designed to take advantage of the earth's constant temperature of 56 degrees Fahrenheit. These systems use a loop to circulate water for heating and cooling, with a horizontal loop typically installed at a depth of 10 feet. However, due to space constraints, most systems are installed vertically at 150 feet, depending on soil conditions. After water flows through the coils and returns to the HVAC unit, the furnace heats from this baseline while the air circulates without the need for a compressor, resulting in natural heating and cooling.
Overall, geothermal systems use the ground as a heat exchanger, making them much more efficient than traditional HVAC units or heat pumps. Although they do cost more upfront, they provide long-term efficiency and savings.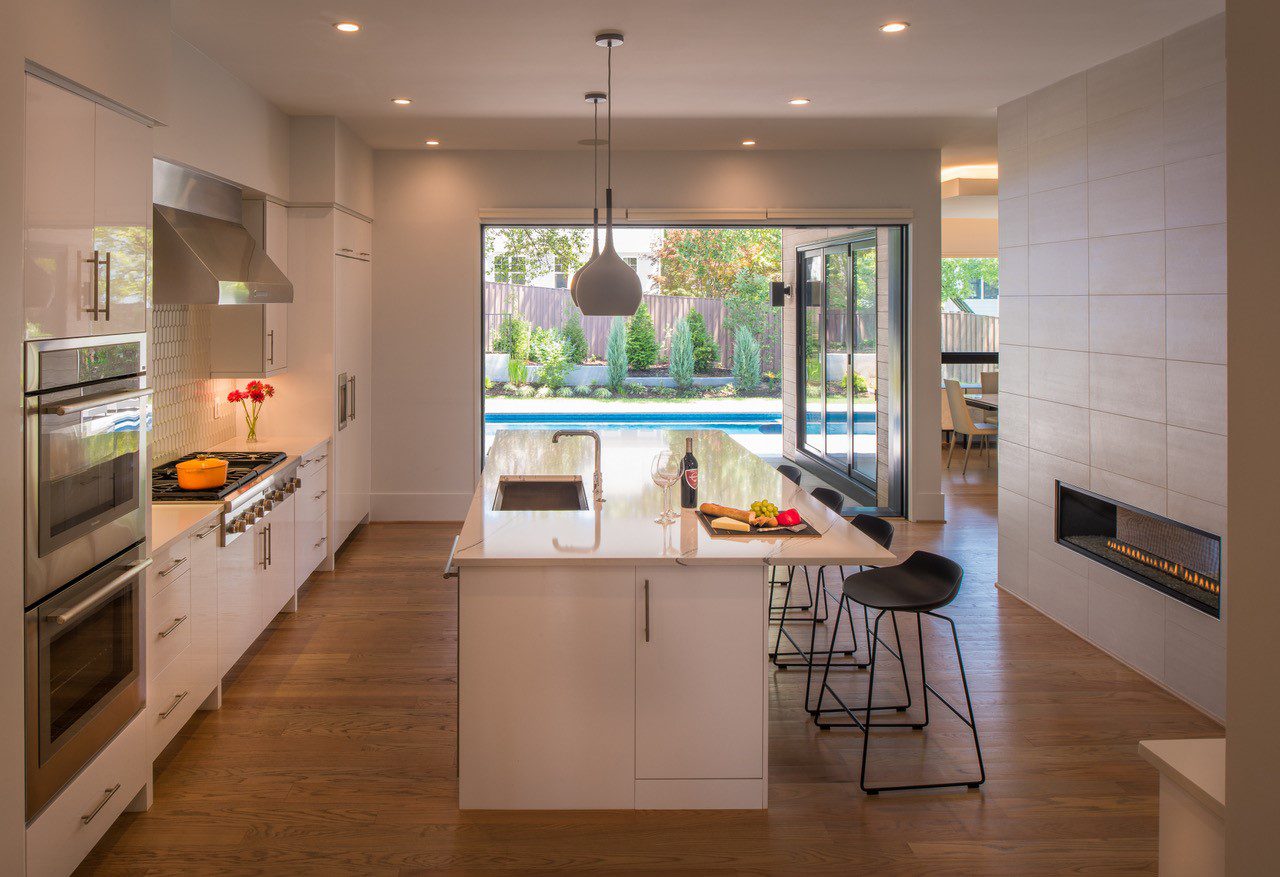 The Solar House Photographed by Maxwell Mackenzie Photography
Sustainable Home Design
In this article, we explored the fundamentals of building a sustainable custom home that goes beyond just appliances and technology. We looked at how proper site planning, water conservation analysis, waste reduction, and energy efficiency can all contribute to building a truly sustainable home.
A sustainable home not only benefits the homeowners by saving energy and reducing costs, but it also benefits the environment by preserving the natural beauty of the land and reducing waste from construction.
As an architect-led firm, AV Architects + Builders believes in going back to the basics for long-term effectiveness and building the foundation of sustainability right. As the world becomes more environmentally conscious, building a sustainable home is no longer just a trend but a necessity.
Contact AV Architects + Builders to learn how we can bring your dream home to reality!
If you'd like to read more before you reach out, here are some additional resources from our Learning Center:
Share
Published on April 19th , 2023